Bathrobe
Our ExtremelySoft and comfortableand super soft Bathrobe have been specially woven with a Terry Towelling Cotton giving you a lovely luxurious feel.
100% Terry Towelling Bathrobe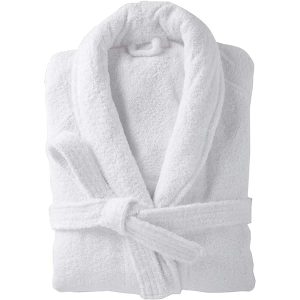 Indulge in the lap of luxury with the Frnhz Super Soft Bathrobe, a true embodiment of comfort and opulence. Crafted to perfection, this bathrobe is a testament to fine craftsmanship and attention to detail.
Made from the highest quality materials, this bathrobe envelops you in a cloud of softness. Its lush and velvety texture caresses your skin, creating a cocoon of warmth and relaxation. The plush fabric is gentle on your skin, ensuring a soothing and spa-like experience every time you slip it on.
The Frnhz Luxury Bathrobe offers a perfect balance between style and functionality. With a classic design and a range of sophisticated colors to choose from, you can effortlessly elevate your loungewear game. The generous fit and thoughtful design details make it a perfect choice for both men and women, while the waist belt ensures a secure and customizable fit.
This bathrobe isn't just a robe; it's an experience, a daily escape to tranquility and self-indulgence. Whether you're stepping out of the bath or simply unwinding after a long day, the Frnhz Super Soft Bathrobe is your invitation to pure luxury and relaxation. So, wrap yourself in opulence, and let the cares of the world melt away. Our best range of bath linen will suit all guest or home bedrooms.
If you have a business and you think you could benefit from the addition of cotton towels and/or wet wipes please contact us to discuss your needs. We have helped many businesses impress their customers with our range of products. With many years of experience in the hot towel and wipe industry, we can easily advise you on what may suit your needs.